Each of our highly trained team of physiotherapists has the right qualifications and experience to relieve your pain. They take the time to listen and tailor treatment to your individual needs.
Joel Werman
Specialist Sports Physiotherapist
Post Grad Dip (Sports Physio)
B.App.Sc (Physio)
Member A.P.A., S.P.A., A.C.P
Joel is the practice principal at The Oval Physio. He graduated as a physiotherapist in 1986 and completed a post-graduate diploma in Sports Physiotherapy in 1995. In 2008 he joined the elite ranks of his profession by becoming a Specialist Sports Physiotherapist. He is one of only a handful of physiotherapists to hold this title in NSW. The Specialist title is conferred to physiotherapists who have attained the highest level of expertise in their particular field of physiotherapy.

Joel has worked extensively in the sporting domain with both professional and amateur athletes. His sub-speciality is in the treatment of shoulder problems. He is recognised as one of Australia's leading shoulder physiotherapists. Through years of experience he has developed his own rehabilitation protocols and treatment techniques to remedy shoulder problems. He lectures extensively on the subject at the post-graduate level where he shares his knowledge and experience with other physios and doctors.

Joel is a founding member and immediate past President of the Shoulder & Elbow Physiotherapists of Australasia. Since 1996, Joel has been a NSW and Australian Institute of Sports accredited provider servicing the needs of elite athletes. He is also a mentor and examiner for candidates undertaking the Australian College of Physiotherapists examinations. He regularly trains candidates for the Masters of Physiotherapy Program at La Trobe University, Melbourne.
I teach all the physios who work with me that having the technical skill is important, but not nearly as important as caring for their patients. Listening and taking the time to attend to every person they treat is just as important as the physical therapy.
Mark Kenna
Specialist Sports Physiotherapist
(Fellow of the Australian College of Physiotherapists 2007)
B.App.Sc (Physio)
Member A.P.A., S.P.A., A.C.P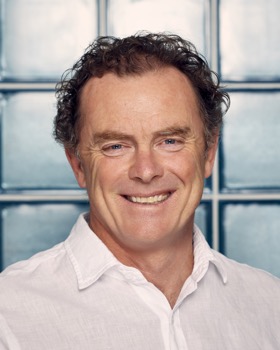 Mark has over 30 years of clinical experience across a wide variety of sports. He is a former partner of Eastern Suburbs Sports Medicine, Bondi Junction. He has worked at a national level in rugby league, basketball and with elite athletes from Surf Life Saving Australia and Triathlon Australia. He has been team physiotherapist to a variety of representative rugby union programs at state and national levels, as well as at international competitions with the Australian Rugby Union Sevens team. Mark has worked for over twenty years in the Schools Rugby Union program including with Scots College Sydney, NSW Combined States and the Australian Schools Rugby teams. He is a NSW and Australian Institute of Sports accredited provider.

He has been Physical Therapist to the US Olympic Sailing team for four Olympic campaigns 2000, 2004, 2008 and 2012. He was amongst the first Sports Physiotherapists to be awarded a Fellowship of the Australian College of Physiotherapists (ACP) in 2007. Mark has been extensively involved in the Examination Program for the ACP and is currently Chair of the Board of Censors and an executive member of the Council of the Australian College of Physiotherapists.

Mark's subspecialty focuses on conditions involving knees, hips and lower limb biomechanics. 
Wendy Lowe
A.P.A. Titled Sports & Musculoskeletal Physiotherapist
Grad. Dip. Manip. Therapist
A.P.A. Sports & Manip. Physiotherapist
Member A.P.A., S.P.A., M.P.A.
Wendy is currently on long-service leave.  Please contact the clinic should you wish to see one of her colleagues or to register your interest to consult her on her return.
Wendy is a qualified APA Musculoskeletal and Sports Physiotherapist. She has over 40 years of clinical experience, including 35 years gained whilst running her own private practice. Wendy has worked with elite sportspeople and performers including competitive cycling teams, the Australian Ballet and the Australian Rowing Team.  Wendy has also taught post-graduate physiotherapists, worked in the fitness industry, climbed Mt Kilimanjaro, had a knee replacement and continues to be an active bushwalker. She's also successfully raced outrigger canoes.  Her professional passion is making a difference in people's lives with quality care and treatment.
We're never too old to be strong and healthy.  My wish is that you leave our care with a smile on your face
Edward Gellert
Physiotherapist
B.Ex.Sc
Doctor of Physiotherapy

Member A.P.A.
Member S.P.A.
Edward has completed a postgraduate Doctor of Physiotherapy course at Macquarie University. He has a keen interest in a wide range of sports, but is a passionate rugby union player. Edward still plays for his beloved Knox Rugby Club, as well as working on the sidelines as part of the physiotherapy team.

Edward has a background in Exercise and Sport Science, and has an interest in sports-related injuries of the knees and shoulders. Apart from rugby, he also enjoys a game of golf with mates and spending time at the beach.
My rugby background gives me a genuine insight into the injuries players face, and the best course of management for them.
Jordan Mikaelian
Physiotherapist
B.HlthSci., M.Phty
Member A.P.A.
Jordan graduated from Western Sydney University

in 2016 with a

Master of Physiotherapy

and has since pursued his interests in Sports Physiotherapy.  Personal experiences in competitive swimming and football have fostered Jordan's interest in sports rehabilitation which he has gone on to apply at

elite Rugby League and Soccer clubs

.

Jordan's emphasis on education and long-term rehabilitation for his patients ensure ongoing benefits beyond the injury stage.  His previous experiences have developed his interest in pelvic and lower limb injuries.

In his free time,  Jordan enjoys playing social tennis and touch football.
Aiden Cox
Physiotherapist
B.Physiotherapy (Hons)
Member A.P.A.
Aiden has completed an undergraduate Bachelor of Physiotherapy degree (with honours) at the Australian Catholic University.  As a Marist College North Shore old boy, he developed a keen interest in a variety of sports whilst competing at a representative level in Rugby.   Aiden also grew up playing Australian Rules Football for the Mosman Swans and North Shore Bombers.  He subsequently combined his interest in AFL with his apirations to become a physiotherapist by working on the sidelines as a member of the physiotherapy team for the North Shore Bombers.  His passion for AFL has also led to him to work with the GWS Giants.

Aiden has a background in strength and conditioning and enjoys integrating this knowledge with physiotherapy.  He places an emphasis on personalised care and ongoing rehabilitation to prevent injury and improve performance.

In his spare time, Aiden enjoys being active. When not playing AFL, you can find him trying new activities such as slacklining, hiking and rock-climbing.
Through my own passion for sport, exercise and professional well being, I have come to appreciate the importance of understanding my patients' unique experiences and how to best tailor physiotherapy rehabilitation to their individual needs.
Erica Werman
Practice Manager
B.Arts
B.Sc. (Business)
Erica has worked at The Oval Physio for over 17 years. Erica job-shares the important front-desk role, taking care of the everyday running of the practice and welcoming patients with a friendly smile and calming manner.

In her past career, she worked in consumer marketing. She has a business degree from the University of Southern California. Erica is a devoted mother to two daughters and wife to Joel.
It's very important to me to be able to welcome and reassure patients that we will look after them from the moment they call to make an appointment with us.
Pauline Knapp
Practice Manager
MA (Hons)
Pauline has worked at The Oval Physio for over 20 years. She job-shares the front desk role, helping to run the practice, manage the relationships between the physios, referring doctors, insurance companies and patients.

In her spare time, Pauline keeps busy studying Norwegian and buried in cryptic crosswords.
Over the years, I've come to know many of our patients and their families. I've seen many successful outcomes. I think everyone who comes to our practice responds to our experienced and committed staff. They also feel that it's a happy environment to visit.
Tara Werman
Physiotherapy Student/Receptionist
4th Year Physiotherapy Student
Western Sydney University
You'll meet Tara when you first visit the practice or when you're calling to make an appointment. In her role supporting Erica and Pauline at the front desk, she's learning all about the practice of caring for our clients. Tara is in her fourth year of undergraduate Physiotherapy at Western Sydney University. Working at The Oval Physiotherapy while undertaking her studies has given her a real sense of where she is heading in her career.
I love the positive environment of the practice. It's wonderful to see the way we can help people who come to us in pain and leave feeling so much better. It really puts my studies into context.
Learn more about our services and the conditions we treat